Successful recertification according to EN ISO 9001:2015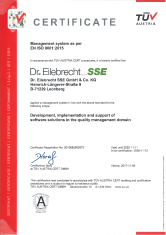 The quality management system of Dr. Eilebrecht SSE GmbH & Co. KG was audited on the 9th of November 2017 according to the current edition of the standard EN ISO 9001:2015 and re-certified without conditions.
The previously applicable standard EN ISO 9001:2008 for quality management has been fundamentally revised and certain topics such as risk management, the handling of opportunities and the responsibility of the management are now much more important.
All areas of the quality management system have been changed on the basis of the new and changed requirements so that nothing stood in the way of certification by the TÜV AUSTRIA CERT GMBH. The certificate was issued for the scope of development, implementation and support of software solutions in the quality management domain.
Also in the future Dr. Eilebrecht SSE GmbH & Co. KG continues to work on the continuous improvement of the quality management system and to offer its customers an excellent product quality as well as a reliable service.
---