Partners
SAP SE
Dr. Eilebrecht SSE is member of the SAP partner program. In this partnership we cooperate on events, projects and give joint presentations. Our product EiQMI is certified for SAP integration via the QM-IDI interface for SAP ERP and SAP S/4HANA.
Steinwald datentechnik

Our partner Steinwald datentechnik GmbH is the leading manufacturer of interface units for the connection of measuring equipment. Together, we benefit from synergies in the sales environment of SAP QM. In addition, this enables us to ensure compatibility with our products at an early stage in the case of new and further developments.
ELIAS GmbH
The process chain in the area of measurement is only closed by an optimal integration into the CAQ environment. ELIAS GmbH cooperates with well-known partners who have integrated infra-CONVERT into their software.
Baden-Württemberg Cooperative State University (DHBW)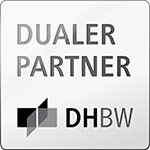 Dr. Eilebrecht SSE has been a trainee company and partner of the Baden-Wuerttemberg Cooperative State University in Stuttgart (DHBW) since 1990. Our goal is to train our own junior staff with a solid education. We successfully achieve this with this partnership.
---