EiQMI metreo – Results recording web-based and mobile
For all platforms and mobile: measurement data acquisition with SAP
EiQMI metreo makes quality data acquisition with SAP easier and more flexible in a new way. Thanks to the web-based user interface, EiQMI metreo is not tied to any platform and data acquisition is also possible on mobile devices and touch displays.
Whether in stand-alone operation or in hybrid use: EiQMI metreo can be used alone or in hybrid operation with EiQMI for Windows. By using the QM-IDI interface certified for EiQMI, secure data transfer between EiQMI metreo and SAP ECC 6.0 or SAP S/4HANA on-premise is guaranteed.

EiQMI metreo with new benefits
EiQMI metreo has been developed together with testers and workers. We attach great importance to a streamlined user interface and a good user experience. EiQMI metreo convinces with simple installation and configuration. Regular and fast updates allow new features to be rolled out quickly.
EiQMI metreo is characterized by these features:
Web-based, platform and device independent
User interface for mobile devices such as tablets and touch displays
High focus on user experience
Easy installation and configuration, no installation on end devices necessary
Integration with other web systems possible
Connection of all measuring devices with digital interface possible
Hybrid operation with EiQMI for Windows possible
Record data in SAP inspection lots
SAP certification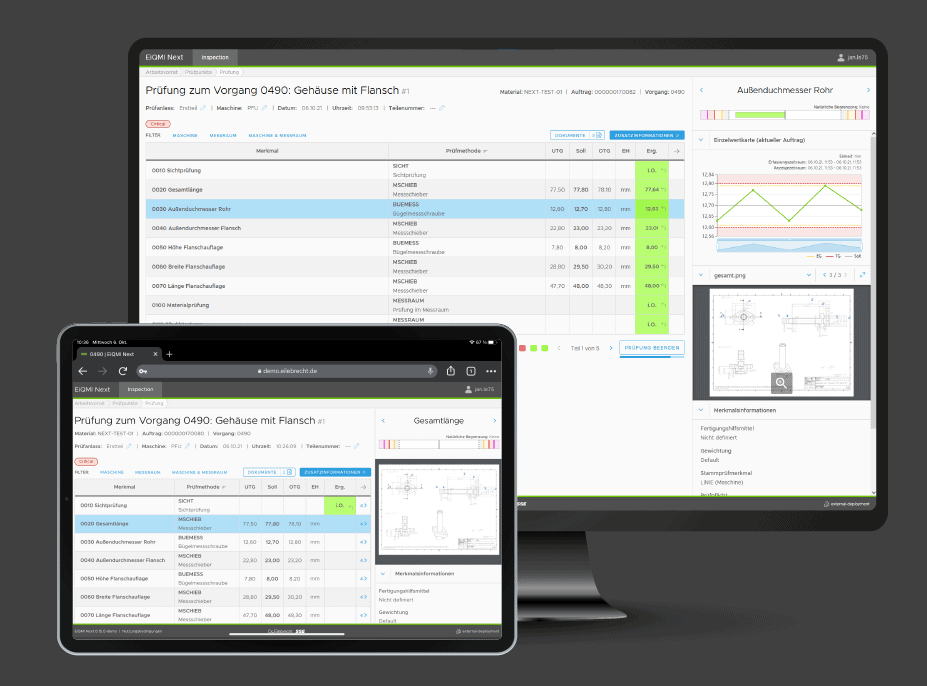 Use case oriented development
We develop EiQMI metreo in a use case-oriented manner. In this way, we ensure that users can use a solution optimized for their use case. For example, EiQMI metreo can be used very effectively for the use cases "Inspection during production and assembly", "Extended workbench / external inspection" and " Goods receipt inspections". In addition, mobile inspections with tablets and hybrid operation with the classic EiQMI are always possible.
Inspection during production and assembly
The EiQMI metreo module for inspection during production and assembly is designed to provide the best possible support for workers and inspectors on the production line and during assembly. The focus is on a tidy user interface that displays only what is really important and good support for touchscreen inputs.
EiQMI metreo supports a characteristic dynamization defined via the SAP inspection plan. In this way, different characteristics can be dynamically inspected according to sampling procedures or inspection events.
Dynamization of inspection
EiQMI metreo can use interfaces to other web-based systems. For example, an MES integration for inspections in cycles according to piece numbers. Depending on the level of integration, for example, a single sign-on for the workers or a jump from the MES to the inspection in EiQMI metreo can be realized.
The integrated document visualization makes it very easy to display instructions, drawing extracts or other documents from SAP or from a fileshare. This is a step towards paperless production and all information is directly available to the inspector.
MES integration for higher efficiency
Extended workbench and external inspection
In order to reliably carry out external inspections ("extended workbench"), EiQMI metreo offers a module for inspection at partners and suppliers. Control over the entire supply chain thus comes a step closer. All results are recorded in an SAP system and can thus be easily evaluated. EiQMI metreo can also be used in an outgoing goods inspection when goods are packed and commissioned externally. The partner or supplier is not given access to the customer's company network. The external inspectors can only access data released for them.
Inspection at partners and suppliers in the supply chain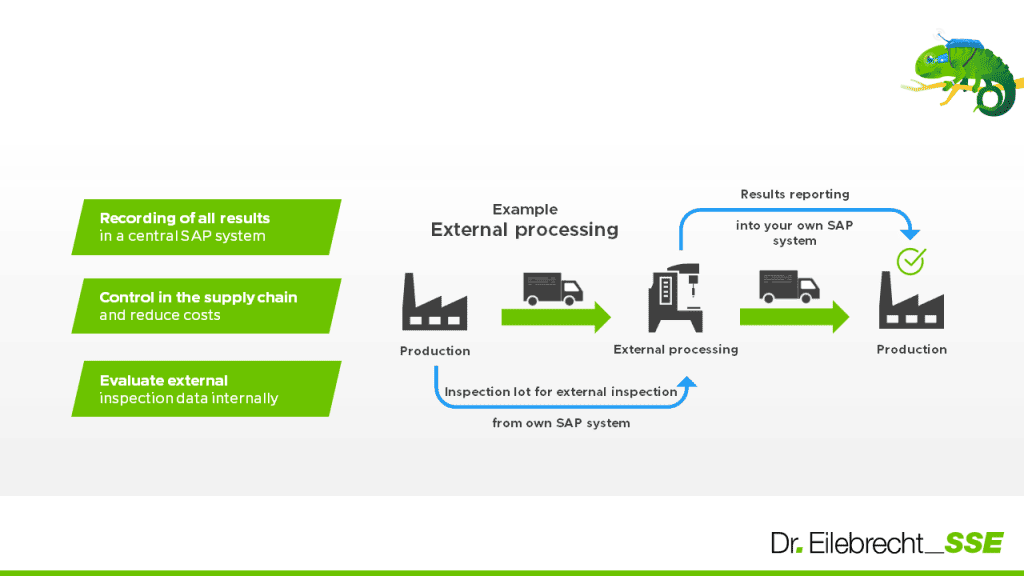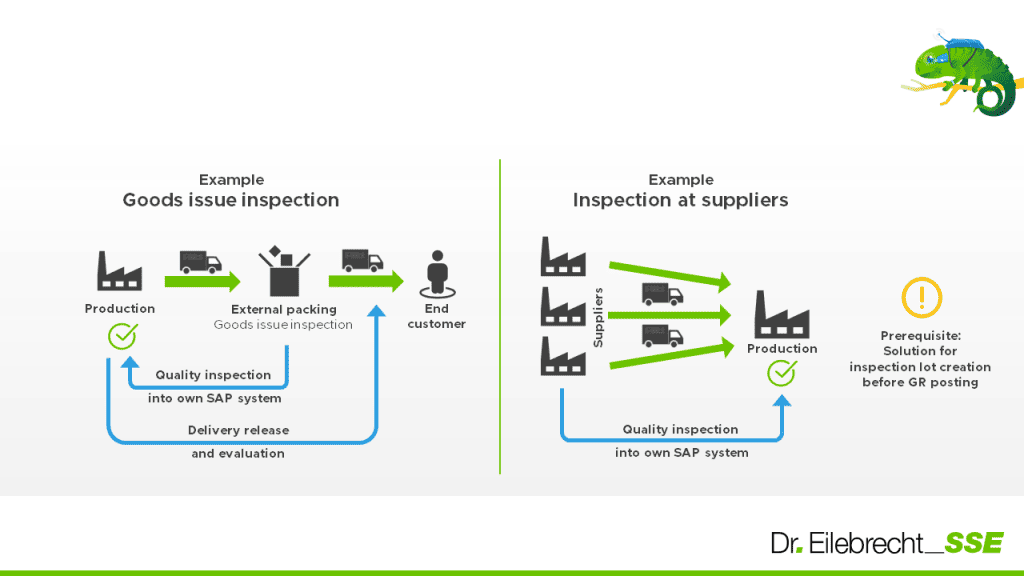 Hybrid inspection with EiQMI for Windows and EiQMI metreo
EiQMI metreo is completely compatible with the classic EiQMI Client. This means that hybrid operation of both solutions works without any problems. A possible scenario: on the store floor, production-related inspections are carried out with EiQMI metreo, while measurements with more complex measuring devices are carried out in the measuring room with the classic EiQMI Client. All data can then be evaluated together with EiSEL.
Inspection on the shopfloor and in the measuring room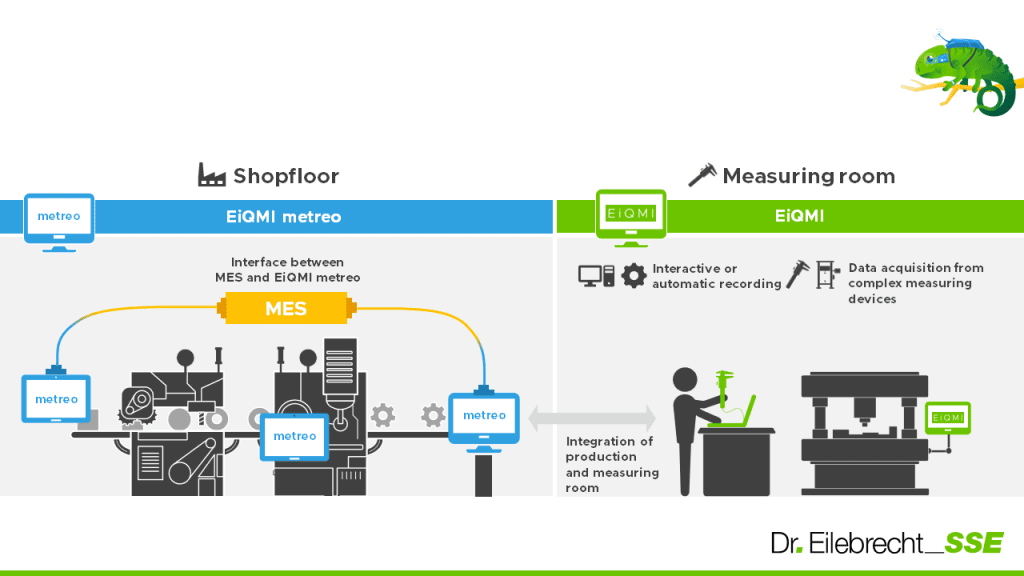 EiQMI metreo Demo and further information
The web-based EiQMI metreo can be tried out free of charge in a demo. Simply register here. You will then receive the access data.
We would also be pleased to inform you in a personal meeting or a presentation about all the possibilities that EiQMI metreo offers you. Simply send us an request for this.
Our technology and mindset
In 2018, we started to create a basis for new developments with a modern technology and mindset: the Platform Next. It forms the foundation and follows certain principles to develop durable, high-quality, and flexible solutions.
---