EiPLAN – Inspection planning
Enhancement of SAP® Inspection Planning
The inspection planning tool EiPLAN exists since 2002 and was developed to make SAP® inspection planning easier, more efficient and more variable. So today there is a wide range of application areas and possibilities. The inspection planning features in EiPLAN help to create and maintain better plans with less effort, save typing, and create consistency and avoid errors. EiPLAN uses existing sources of information to create and maintain standard, inspection and routings in SAP®.
In many cases EiPLAN does not replace SAP® test planning, but extends its possibilities. Thus it is possible with EiPLAN to maintain master plans (plan families) or to compare and edit plans in the Plan Cockpit. This saves time.
Editing of coherent plans
Updating plans can take a lot of time. With EiPLAN, plan updates can be performed in a time-saving manner through bulk editing. Master plans also guarantee greater consistency among plans and enable uniform terms and stamps.
Plans from CAD drawings
EiPLAN can create SAP® inspection plans from digitally stamped CAD drawings. The stamping of CAD drawings is possible by the specialized tool infra CONVERT of our partner ELIAS. Also the connection of other stamping tools is realizable. EiPLAN imports after the stamping an export of infra CONVERT and creates from it an inspection plan. Most properties can be determined from the characteristic type during stamping. Tolerances and attributes are thus directly taken from the drawing into the inspection plan.
In this way, the developer's specifications are mapped without errors in the inspection plans in SAP®. The inspector can also see the drawing including the stamps during the inspection with EiQMI® and thus inspect more quickly and efficiently.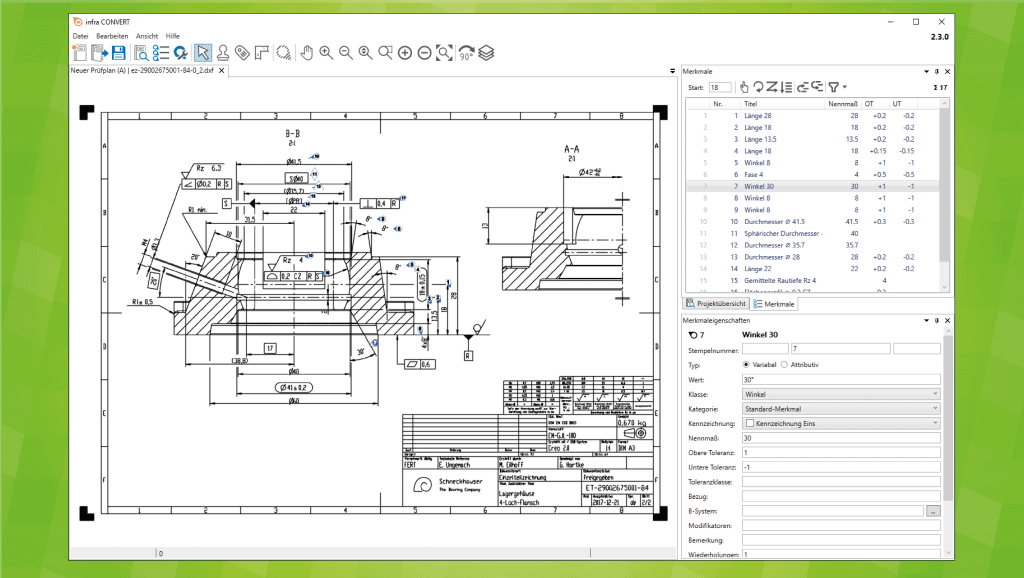 Plans from measurement programs and protocols
The measuring program is created as a basis for a measurement on a complex measuring device. All characteristic results are then written into a results file during an initial measurement. EiPLAN can read this results file, create an inspection plan from it and transfer it to SAP®.
Inspection lots thus always match the measurement programs exactly and it is ensured that assignments of results to characteristics never fail or need to be reworked.
Migrate plans
EiPLAN can migrate plans from third-party systems. This becomes necessary, for example, when SAP® is newly introduced and other CAQ systems are replaced. If plan data can be exported in the legacy system, EiPLAN can be used to write it into SAP® inspection plans.
R&D inspections
In interaction with EiQMI® inspection plans can be created step by step already during the development. EiPLAN loads operations and characteristics changed in EiQMI® into SAP® plans. EiPLAN then generates suitable lots. Inspection planning in SAP® is then not necessary and inspection lots can be extended step by step.
Detailed information can be sent upon request.
---