EiQMI – Results recording
EiQMI® and SAP® in perfect interaction
The Eilebrecht Quality Management Interface – EiQMI® for short – is the powerful and easy-to-use solution for quality inspections. Over 500 measuring devices can be connected to SAP® as standard. It makes no difference whether these are simple measuring devices, such as calipers or outside micrometers, or complex measuring devices, such as coordinate measuring machines or spectrometers.
Close integration of quality inspection in SAP® is thus possible, because EiQMI® is completely tailored to SAP®. All master data is automatically loaded from SAP®. The interface is certified for SAP ECC® as well as for SAP S/4HANA®. Inspection lot data and measurement results are thus transferred securely between the SAP® system and EiQMI®. At the same time, EiQMI® remains highly adaptable to specific needs so that it fits perfectly into customer systems and processes.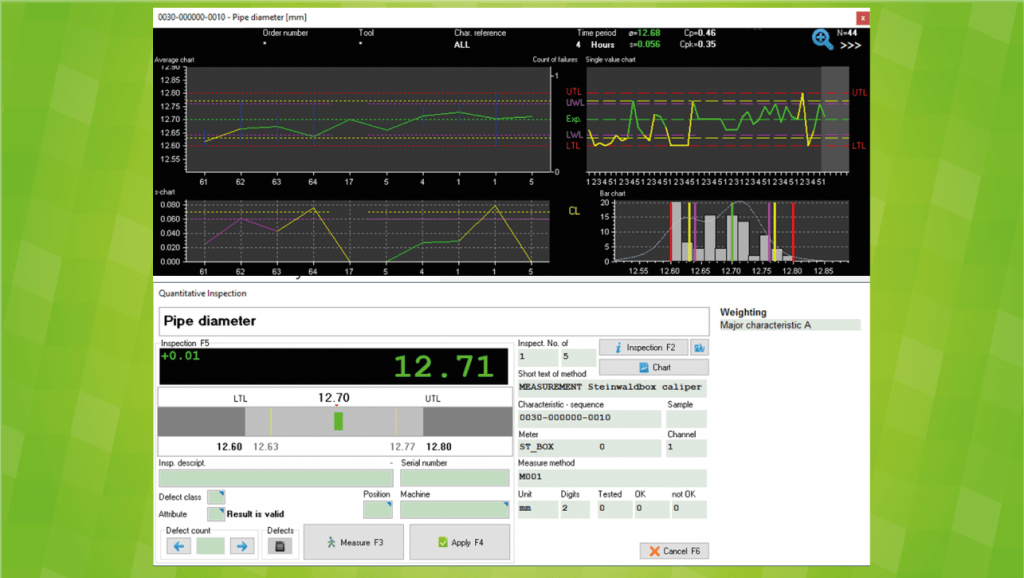 Application areas and automation
EiQMI® has been in development since 1995 and since then it has been continuously expanded and optimized and today offers an enormous range of functions. Whether in incoming goods, in in-process control, in the testing and analysis laboratory, in the measuring room, in a fully automated production line or in test equipment monitoring: EiQMI® fits seamlessly into operational processes everywhere.
EiQMI® is suitable for any level of automation. Manual test workstations, measuring islands and use in measuring rooms are just as possible as complete integration in fully automated production lines with 100% testing. Partial tasks can also be automated.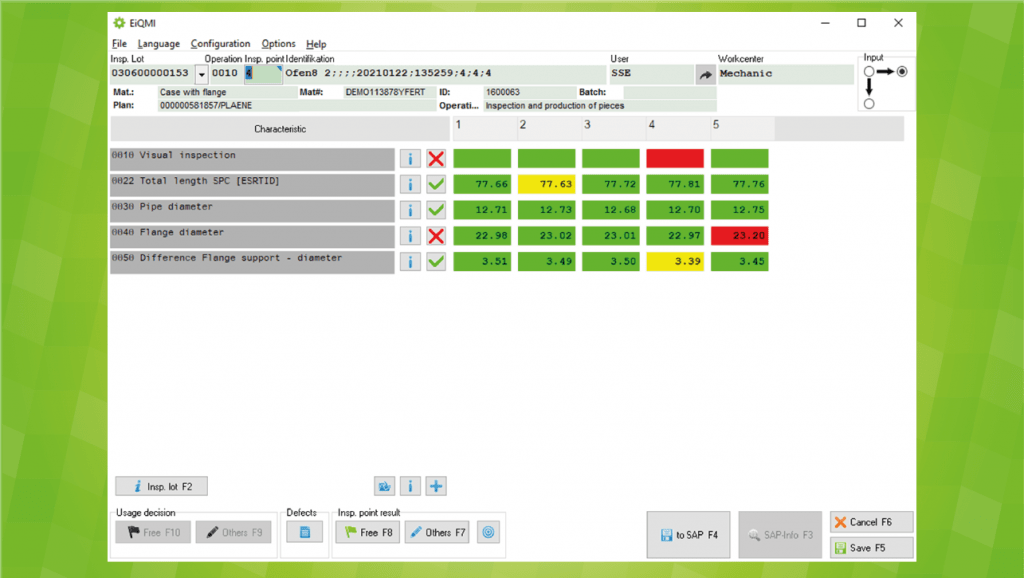 These advantages make the difference
Working without SAP® GUI and QE51N: user interface customizable and easily accessible
Connection of digital measuring devices
Realization of a paperless quality inspection process
Extensive SPC support with control charts, Cpk parameters, etc. for compliant processes and minimized testing effort
Visualization of documents such as CAD drawings, data sheets or instructions
Traceability solutions with detailed logging, audit trail and e-mail notifications
Documentation of deviations and errors
Automatic creation of Q-messages
Support of cavities
Offline data collection to bridge network interruptions
Support for more than 20 languages
Detailed information can be sent upon request.
---