EiQMI 5 certified for SAP S/4HANA and SAP ERP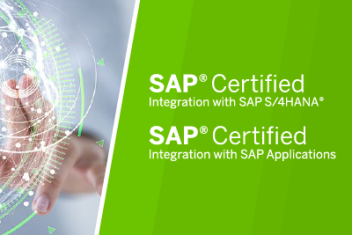 Through the certification of our new product version EiQMI 5 for the SAP interfaces QM-IDI 4.6 as well as S/4-QM-IDI 1.0 after extensive inspection, SAP SE has confirmed complete and correct integration of our software with SAP ERP and SAP S/4HANA systems.
Therefore our customers can further trust on reliable and comprehensive connection of their measuring devices and systems to SAP. In addition to supporting the newest generation of the SAP Business Suite, EiQMI 5 contains further innovative features such as the option to use Unicode characters, extended database support and new functions for handling documents. Continuous development and regular certification of our software for the latest SAP systems always guarantee future-proof solutions for our customers and enable us to advance the implementation of Industry 4.0 and the Internet of Things.

The EiQMI product family
EiQMI provides seamless integration of all kinds of measuring devices with SAP – simple measuring sticks just as easy as complex measuring systems or analysis devices in labs. All levels of automation are possible, from efficient interactive recording of results in the EiQMI Client up to fully autonomous result recording including integration with SPS, MES and line control systems.
The key features:
Integration of measuring devices and system from all leading manufacturers
All levels of automation, integration with SPS, MES and line control systems
Process-oriented user interface in the EiQMI Client
SPC, detailed control charts and extensive statistical analyses
Full document handling, including generating customized reports and certificates
High adaptability to customer systems and processes
Industry-specific solutions like result recording and analyses based on nests/cavities, for example in plastic injection molding
With our additional solutions for creating, migrating and managing inspection plans and routings (EiPLAN), for evaluation and analysis of all quality related data (EiSEL) as well as constant process monitoring (EiVIS/EiMON) the EiQMI product family covers all stages of the quality process.
The company

Since more than 35 years, Dr. Eilebrecht SSE offers innovative solutions for integrated quality management – since 2000 as official partner of SAP. Through the EiQMI product suite we support the quality of our customers along the complete quality process, from planning through inspection and monitoring all the way to evaluation and analysis. As recognized SAPSilver Partner we remain dedicated to making integrated quality management with SAP more efficient and more effective for our customers and continue to advance Industry 4.0 and the Internet of Things.
---